S60x6 Quick Coupling Quick Connect Fitting and GARDENA Quick Coupling
19,08 €
tax incl.
Instead of 19,71 €
Customer ratings and reviews
S60x6 quick connect coupling with GRAND DEBIT quick coupling and GARDENA quick coupling. It will allow you to connect your pipe directly to your tank and offer a high flow
This accessory is specially designed for 1000 liter plastic tanks Strong>(also called IBCs or IBCs) used for recovery, storage and consumption of rainwater . It is fixed directly on the valve of your tank 1000 L.
This special garden connection allows you to connect your garden hose to the fitting Strong>. Its LARGE DEBIT diameter will allow you to have a larger flow compared to a conventional GARDENA style quick connect outlet.
A GARDENA high speed quick connect is joined with the fitting.
! Warning: this quick coupling can only be used with 19mm pipes!
Features Strong> P>
Material: polyethylene
Input: Tapped (Female) S60X6
Output: Male end - high speed quick coupling (type Gardena ©)
supplied with a GARDENA high flow fitting Li>
Weight: 150 gr/ Li>
Article nine
your valve must be S60x6, see sketch attached P>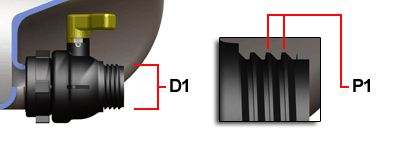 D1: 60mm
P1: 6mm
Data sheet
Type d'écrou

Plug S60x6 in HDPE

Type de sortie

with quick coupling output

Type d'accessoire pour cuve 1000 litres

Raccord / Robinet S60X6

Type d'écrou

S60X6

Matériau

PEHD

Robinet

Sans
Be the first to ask a question about this product!
13 other products in the same category: