Raccord S60x6 avec embout raccord rapide GRAND DEBIT et raccord de tuyau avec vanne de régulation GRAND DEBIT
23,25 €
tax incl.
Instead of 26,63 €
Customer ratings and reviews
Nobody has posted a review yet
Raccord S60x6 avec embout raccord rapide GRAND DEBIT et raccord de tuyau avec vanne de régulation GRAND DEBIT. Cet ensemble vous permettra de vidanger et de controler le débit d'eau de votre cuve de 1000 litres pour l'arrosage.
Cet accessoire est spécialement conçu pour les cuves 1000 litres plastique (aussi appelé IBC ou GRV) utilisées pour la récupération, le stockage et la consommation d'eau de pluie. Il se fixe directement sur la vanne de votre cuve 1000 L.
Ce raccord spécial jardin vous permet de connecter votre tuyau d'arrosage sur le raccord. Son diametre GRAND DEBIT vous permettra d'avoir un débit plus important par rapport à une sortie raccord rapide style GARDENA classique. Le raccord GARDENA avec vanne de régulation fourni dans ce kit permettra de vidanger et/ou de controler le débit d'eau de votre cuve de 1000 litres plus facilement
! Attention : ce raccord rapide ne peut être utilisé qu'avec des tuyaux de 19mm !
Caractéristiques :
Matière : polyéthylène
Entrée : Taraudée (femelle) S60X6
Sortie : Embout mâle - raccord rapide grand débit (type Gardena ©)
fournit avec un raccord grand débit GARDENA avec vanne de régulation
Poids : 150 gr
Article neuf
votre vanne doit etre à la norme S60x6 , voir le croquis ci joint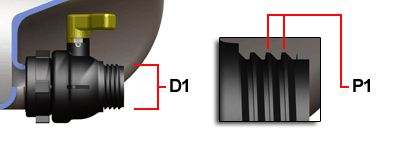 Data sheet
Type d'écrou

Plug S60x6 in HDPE

Type de sortie

with quick coupling output

Diametre

S60x6
Be the first to ask a question about this product!
13 other products in the same category: