Female Connection 2" S60x6 - Straight Fluted Male - 12.5mm (1/2 inch)
Customer ratings and reviews
Nobody has posted a review yet
S60x6 connection with 12.5mm fluted male output connecting to the valve of your 1000-litre IBC tank. It is possible to connect a garden hose to the tank with a serflex and water directly from the tank.
Adapter specially designed for 1000-litre plastic tanks
This rotating nut fitting allows you to set up a flexible hose from the valve of your tank to facilitate the watering and maintenance of your garden.
Product technical description:
1000L tank fitting/ adapter: Tarauded Female S60x6 (inside diameter of the 56mm lock) - Male fluted tip 12.5 mm for flexible hose with an inner diameter of 12.5mm (e.g. garden watering, etc.).
Characteristics:
Entry:

Tarauded Female S60X6

Exit:

Male flute 12.5 mm

Turning nut connection

Material:

Polypropylene loaded with fiberglass.

Maximum pressure.

8 bar.

Average weight:

120g.
your valve must be at the S60x6 standard, see the sketch attached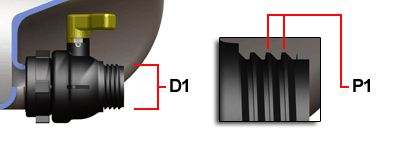 D1: 60mm
P1: 6mm
Technical fact sheet
Type of connection input

S60x6 polypropylene rotating plug

Exit type

with fluted output

Type of accessory for 1000-litre tank

1000L tank connection

Type of thread

S60X6

Material

Polyethylene

Faucet

Without
Be the first to ask a question about this product!
10 other products in the same category: