Female fitting S60x6 brass - 1 inch chrome brass faucet
Customer ratings and reviews
Female S60x6 brass - 1'' chrome brass faucet (exit 26x34) connecting on the valve of your 1000-litre IBC tank. It is possible to attach a garden hose to the faucet directly using a serflex or with a quick fitting by adding a faucet nose to the faucet. Suitable for use with water only


Adapter specially designed for 1000-litre plastic tanks
This fitting with female nut S60x6 and chrome brass faucet has been designed for 1000-litre tanks, to make it easier to water and maintain your garden. Its great robustness will allow you to use this one for many years.
Product technical description:
- female brass S60x6 cap
- Flat joint 25 mm
- Brass faucet 1'''' , output 26x34 , fluted fitting out of 19mm diameter
In order to use this connection, your valve must be at the name S60x6 , voic a sketch of the thread in question: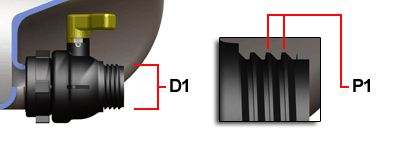 D1: 60mm
P1: 6mm
Technical fact sheet
Type of connection input

Brass S60x6 plug

Exit type

with brass faucet

Diameter

1'' BSP

Type of accessory for 1000-litre tank

1000L tank connection

Type of thread

S60X6

Material

Brass

Faucet

With
By
joachim P.
(Uppsala, Sweden) on 31 March 2020
(

Female fitting S60x6 brass - 1 inch chrome brass faucet

)
:
Not well designed
After screwing to the tank the faucet is aiming upwards intead of downwards. Because of its design there is no way to fix this but to play with sealings of various thicknesses. A much better design could include a bolt to fix the faucet onto the female fitting so that one can adjust the angle (after a few trial and errors though...).
Apart from that it looks like robust stuff.
By
José M.
(Epinal, France) on 17 Feb. 2020
(

Female fitting S60x6 brass - 1 inch chrome brass faucet

)
:
Raccord femelle S60x6 laiton - robinet laiton chromé 1 pouce
Produit de qualité ,qui se monte facilement , étanchéite avec du joint a filetage.
By
- L.
(Nogent le rotrou, France) on 22 Apr. 2019
(

Female fitting S60x6 brass - 1 inch chrome brass faucet

)
:
Un produit de très bonne qualité
Je suis satisfait de cet achat car il m'est très utile pour utiliser l'eau de pluie pour mon jardin.
L'envoi a été très rapide et je recommande cette société pour son efficacité et son sérieux.
Be the first to ask a question about this product!
10 other products in the same category:
Related articles on blog
No related articles on blog