S60x6 fast-connecting tip GRAND DEBIT and fast GARDENA connection
19,08 €
TTC
Instead of 27,04 €
Customer ratings and reviews
S60x6 fast-connecting tip GRAND DEBIT and fast GARDENAconnection. It will allow you to connect your hose directly to your tank and offer a significant flow
This accessory is specially designed for 1000-litre plastic tanks (also called IBC or GRV) used for rainwater recovery, storage and consumption. It attaches directly to the valve of your 1000 L tank.
This special garden fitting allows you to connect your garden hose to the fitting. Its BIG DEBIT diameter will allow you to have a higher throughput compared to a fast fitting output style GARDENA classic.
A fast high-flow connection GARDENA is attached with the fitting.
! Warning: this fast fitting can only be used with 19mm pipes!
Features:
Matter: polyethylene
Entry: Taraudée (female) S60X6
Output: Male tip - high-flow fast fitting (type Gardena ©)
provides with a high-flow GARDENA connection
Weight: 150g
Article nine
your valve must be at the S60x6 standard, see the sketch attached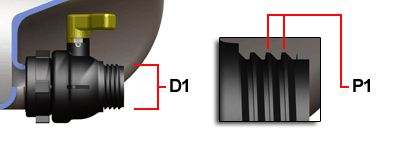 D1: 60mm
P1: 6mm
Technical fact sheet
Type of connection input

S60x6 plug in PEHD

Exit type

with quick fitting output

Type of accessory for 1000-litre tank

1000L tank connection

Type of thread

S60X6

Material

HDPE

Faucet

Without
Be the first to ask a question about this product!
14 other products in the same category: