This accessory is specially designed for 1000-litre plastic tanks (also known as IBC or GRV) used for rainwater recovery, storage and consumption. It attaches directly to the valve of your 1000 L tank
Adapter - 2 Faucets connecting to the valve of your 1000-litre tank. It is possible to clip a quick gardena -style fitting directly onto the faucet so that you can connect a garden hose to the tank and water directly from the tank.
Composition:
1 black FEMALE DIN61 cap (3/4" no gas) - Matter: PEHD
1 female female 3/4'' female
2 Water But Tap Black Male Tap (3/4" no gas) - Matter: PEHD
Is my valve compatible with your faucet?


To make sure, you should check the following:
The output diameter of your valve: It should be 59 to 60 mm
The number of nets: The exit of your valve must have 3 to 4 nets, the threading is "no artillery" type (S60X6)
Be careful, under no circumstances should this faucet replace the valve of your tank. It must be mounted on a valve in good condition, and it must be in a closed position when you no longer use the water from the tank!
This fitting is intended to fit on S60x6 valves, see the design below with the features of the threading: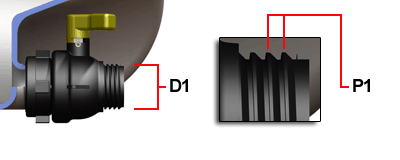 D1: 60mm - P1: 6mm
Does your valve have a different thread?
We invite you to contact us by email or phone so that we can offer you a solution to your needs.
Technical fact sheet
Type of connection input

Polypropylene S60x6 plug

Exit type

with quick fitting output, with plastic faucet

Type of accessory for 1000-litre tank

1000L tank connection

Type of thread

S60X6

Material

Polyethylene

Faucet

With
Be the first to ask a question about this product!
23 other products in the same category: