Demi raccord symétrique Guillemin à douille annelée - aluminium
Le raccord symétrique pompier à douille annelée est conçu pour être serti sur des tuyaux. Il peut être monté avec différents systèmes de sertissage : des jupes embouties, des colliers tourillons, du feuillard et des jupes crantées. Le raccord pompier peut être utilisé à l'aspiration et au refoulement, ses domaines d'intervention sont larges: la lutte incendie, les industries pétrolière, chimique, pétrochimique, pharmaceutique, la construction, la maintenance, l'agriculture, l'irrigation, les aciéries, le transport de vrac liquide et pulvérulents.
Nos conseils dassemblage :
Présenter les demi-raccords pompier face à face

Assembler les demi-raccords, les joints doivent être collés lun contre lautre

Tourner les bagues à la main afin que les guides sassemblent

Finaliser lopération de serrage avec une clé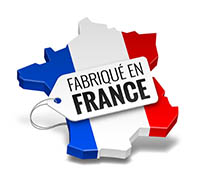 Data sheet
Type de sortie

Male

Type d'accessoire pour cuve 1000 litres

1/2 raccord symétrique

Matériau

Aluminium
Be the first to ask a question about this product!
Combinations
Taille
reference
Price
quantity
Add to cart

Taille : DN 20 x 25mm

101141

Price : 18,55 €

DN 20 x 25mm
101141

18,55 €

Taille : DN 25 x 30mm

101142

Price : 20,34 €

DN 25 x 30mm
101142

20,34 €

Taille : DN 32 x 35mm

101143

Price : 18,19 €

DN 32 x 35mm
101143

18,19 €

Taille : DN 40 x 45mm

101144

Price : 18,90 €

DN 40 x 45mm
101144

18,90 €

Taille : DN 50 x 55mm

101145

Price : 21,77 €

DN 50 x 55mm
101145

21,77 €

Taille : DN 65 x 70mm

101146

Price : 23,72 €

DN 65 x 70mm
101146

23,72 €

Taille : DN 80 x 90mm

101147

Price : 29,98 €

DN 80 x 90mm
101147

29,98 €

Taille : DN 100 x 110mm

101148

Price : 36,77 €

DN 100 x 110mm
101148

36,77 €

Taille : DN 32 x 32 mm

101149

Price : 48,80 €

DN 32 x 32 mm
101149

48,80 €

Taille : DN 40 x 30mm

101150

Price : 45,77 €

DN 40 x 30mm
101150

45,77 €

Taille : DN 40 x 35mm

101151

Price : 32,65 €

DN 40 x 35mm
101151

32,65 €

Taille : DN 40 x 40mm

101152

Price : 18,62 €

DN 40 x 40mm
101152

18,62 €

Taille : DN 100 x 102mm

101153

Price : 36,77 €

DN 100 x 102mm
101153

36,77 €

Taille : DN 100 x 105mm

101154

Price : 36,77 €

DN 100 x 105mm
101154

36,77 €

Taille : DN 150 x 152mm

101155

Price : 185,88 €

DN 150 x 152mm
101155

185,88 €
30 other products in the same category: