Demi raccord symétrique Guillemin sans verrou à douille filetée mâle
Customer ratings and reviews
Le raccord symétrique à visser mâle sans verrou comporte un filetage pas gaz, dit également « BSP ». Il peut être utilisé à l'aspiration et au refoulement, ses domaines d'intervention
Le raccord symétrique à visser mâle sans verrou comporte un filetage pas gaz, dit également « BSP ». Il peut être utilisé à l'aspiration et au refoulement, ses domaines d'intervention : la lutte incendie, les industries pétrolière, chimique, pétrochimique, pharmaceutique, agroalimentaire (inox), la construction, la maintenance, l'agriculture, l'irrigation, les aciéries, le transport de vrac liquides et pulvérulents.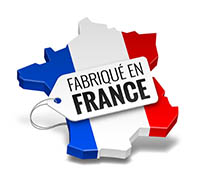 Data sheet
Type de sortie

Male à visser

Type d'accessoire pour cuve 1000 litres

1/2 raccord symétrique

Matériau

Aluminium
Be the first to ask a question about this product!
Combinations
Taille
reference
Price
quantity
Add to cart

Taille : DN 20 x 3/4''

101176

Price : 8,24 €

DN 20 x 3/4''
101176

8,24 €

Taille : DN20 x 1''

101177

Price : 22,68 €

DN20 x 1''
101177

22,68 €

Taille : DN 25 x 1''

101178

Price : 6,89 €

DN 25 x 1''
101178

6,89 €

Taille : DN 32 x 1'' 1/4 BSP

101179

Price : 11,09 €

DN 32 x 1'' 1/4 BSP
101179

11,09 €

Taille : DN 40 x 1'' 1/2 BSP

101180

Price : 7,73 €

DN 40 x 1'' 1/2 BSP
101180

7,73 €

Taille : DN 40 x 2'' BSP

101181

Price : 30,70 €

DN 40 x 2'' BSP
101181

30,70 €

Taille : DN 50 x 2'' BSP

101182

Price : 8,93 €

DN 50 x 2'' BSP
101182

8,93 €

Taille : DN 50 x 1'' 1/2 BSP

101183

Price : 33,77 €

DN 50 x 1'' 1/2 BSP
101183

33,77 €

Taille : DN 65 x 2'' BSP

101184

Price : 57,70 €

DN 65 x 2'' BSP
101184

57,70 €

Taille : DN 65 x 2'' 1/2 BSP

101185

Price : 12,24 €

DN 65 x 2'' 1/2 BSP
101185

12,24 €

Taille : DN 80 x 3'' BSP

101186

Price : 13,92 €

DN 80 x 3'' BSP
101186

13,92 €

Taille : DN 100 x 4'' BSP

101187

Price : 21,87 €

DN 100 x 4'' BSP
101187

21,87 €
30 other products in the same category: