Presentation of the interior garden VILMA color Comète
Published : 01/08/2020 14:39:52
Categories :
Presentation of the VILMA indoor garden, Comète color, from Vilmorin
Product presentation:
Vilmorin has for some time launched a range of indoor gardens allowing everyone to produce their aromatic or other plants very easily, inside their home. In addition to being useful on a daily basis, it will seduce you with its design side and will therefore make it a perfect decorative object in the middle of your kitchen or your living room. Its LED lamp will give a warm atmosphere in the evening.

Unpacking the carton: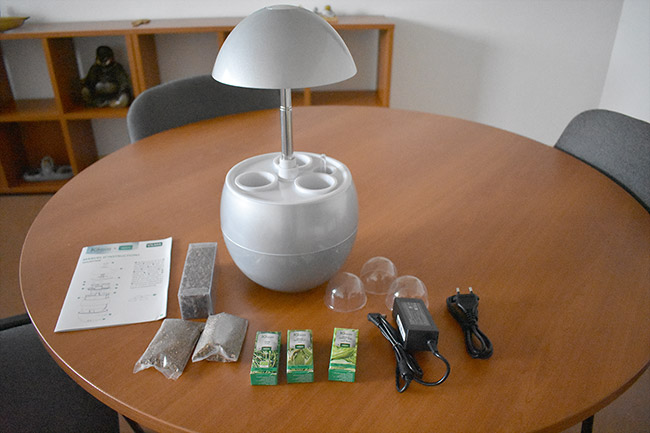 Vilma is delivered with different accessories
Vilma indoor garden

Instructions for use

1 packet of clay balls

2 bags of vermiculture

3 different seed packets

3 germination bells

1 power cable
Commissioning of the VILMA indoor garden:

After unpacking the various products, the first thing to do is to fill the device with water until the gauge reaches the maximum. Allow about 1.6L of water. The culture being done on the principle of hydroponics (culture of plants carried out on a neutral and inert substrate, regularly irrigated with a current of solution which brings mineral salts and essential nutrients to the plant), it is necessary to check the water level regularly via the dipstick and whether or not to fill Vilma accordingly.

Then connect the device electrically for the pump to start. The water gauge will stabilize and then drop, this is normal.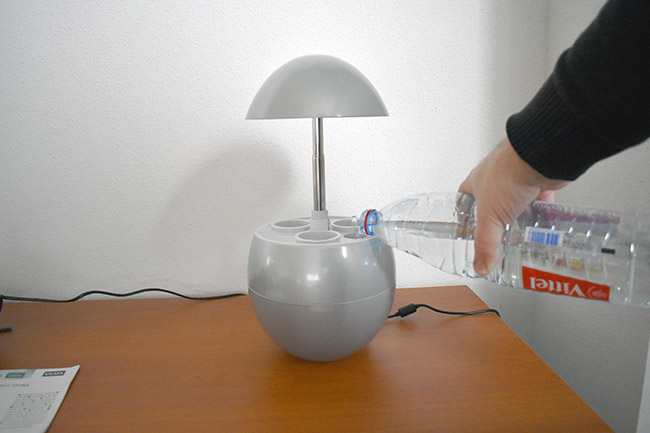 Then come the time to take care of the seedlings. Vilma has 3 baskets, allowing the cultivation of 3 different plants at the same time. The first thing to do will therefore be to unplug the appliance electrically, and then put a little clay balls (supplied with the indoor garden) in each basket.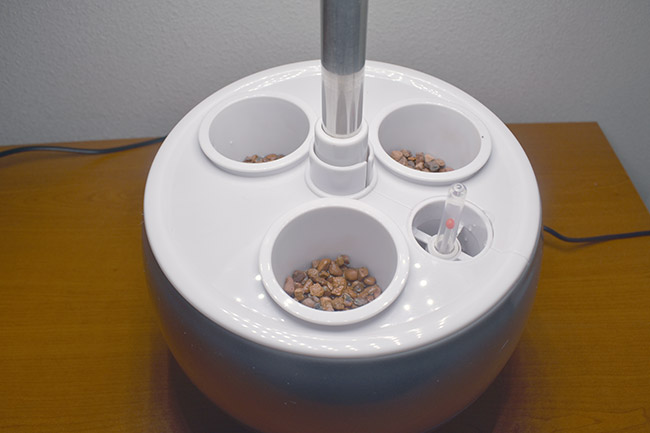 The next step will be to place vermiculture 1cm thick in each basket. Basically this corresponds to a complete sachet (two are provided in the kit).
Once this is done, you can place your seeds in each basket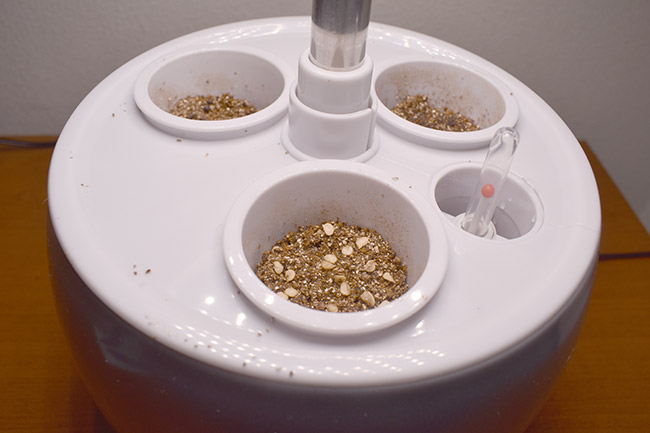 For our test, we planted Cayenne Pepper, Thyme and Sage, but there are a multitude of seed choices that can be grown in the Vilma indoor garden. You will find this one by clicking on this link. Vilmorin will offer this year flower seeds like sunflower or Coleus to further embellish your interiors.

Once this step is finished, it will be necessary to finish this start-up by placing a germination bell on each basket and position the lamp between 5 and 10 cm during this germination phase.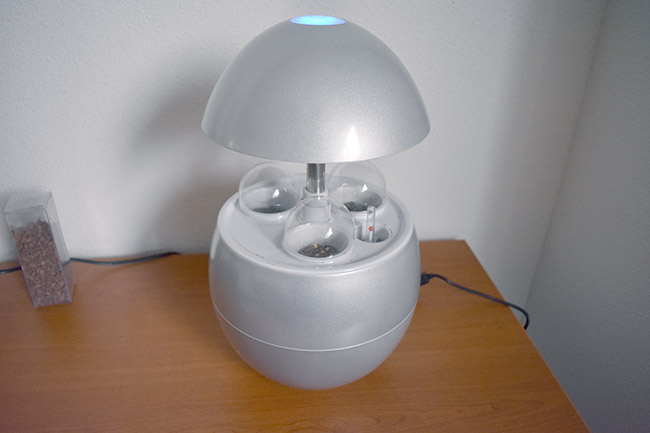 Reconnect the appliance and choose the program via the touch switch (see the instructions). Irrigation and lighting are placed automatically. It is good to immediately make the water level by adding water in the adequate opening. When the shoots are between 2 and 3 cm, remove the bells and raise the lamp.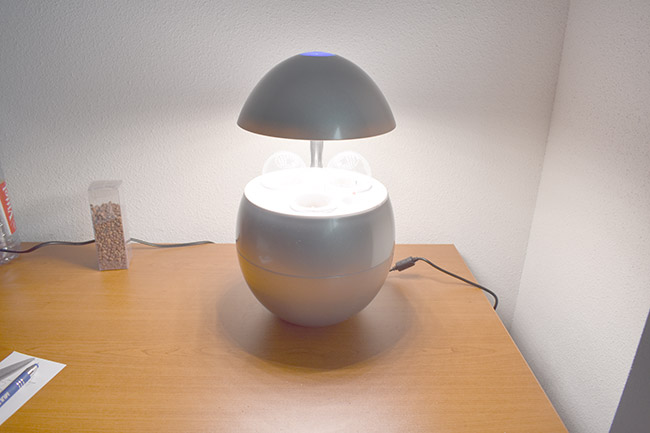 We will follow you through this blog on the progress of sowing and you will demonstrate the interest of these indoor gardens. We will also show you the Vittoria garden later, offering a capacity of 6 baskets.

Namely, Vilma exists in 3 different colors and is available continuously.

We remain at your disposal for any questions regarding these products

Related products
Share this content