Filling Duracool 12a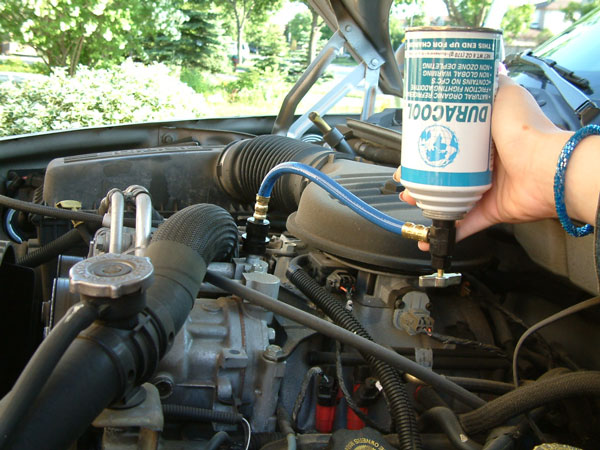 How to fill the Duracool 12a
Filling procedures - Cans Duracool 12a 170gr

Read the instructions well and watch the warning on the can Duracool®. Can be installed on R12 and 134a systems. Follow regulations and laws by region.


Preparing equipment for use
(the assembly of the equipment must be shaken by hand)


Before installing the faucet on the can make sure that the faucet is completely turned in the opposite direction of the watch needle to avoid piercing the can prematurely

Aiming at the faucet on the can

At the other end of the hose (the one with the valve) screw the R134a or R12 fast-catch connector, depending on the fitting that powers your vehicle. Attention only our DC402 connection has both fittings
Filling procedure
Turn on the vehicle and adjust your air conditioning to the maximum to start the compressor. Locate the low-pressure air system service port usually a blue and black cap (never connect on the high pressure side)

Remove the low-pressure cap

To connect the fast plug connector to the low-pressure service port. Rewind the ring, while keeping it pushing the connector over the low-pressure service port. To ensure a good connection the ring will return to the original position.

Turn the faucet valve clockwise until it pierces the can.

Turn the valve counterclockwise to allow the refrigerant to enter the air conditioning system.

During this procedure the can must be reversed.

When the compressor reaches steps and stops every 45 or 60 seconds or so, this will indicate that you will have to stop the filling procedure. If you use the DC402 charging hose with a manometer, the needle must not exceed 45 PSI (top of the blue zone, ideal charging area), because beyond that you would be overloaded.

If the temperature inside the cabin is not cold enough you will need to add refrigerant in small doses (by opening and closing the faucet partially until the correct temperature (50 degrees Fahrenheit).

Be careful not to overload the system, let the compressor run for a few minutes before adding refrigerant.

When the filling procedure is complete, turn the faucet clockwise until it is completely shut down.

To remove the quick plug connector, step back the ring and the connector will come out on its own.

If it still contains refrigerant, keep the faucet on the can. Keep away from an open flame and store it in a well-ventilated area.

Place the ID ticket near the service port.
Filling procedures - Duracool® 12a bottle 5.4kgs

Collect the existing refrigerant load in an appropriate container. Local regulations may vary from region to region. Do not mix refrigerants.

Squeeze the circuit at -69 kpa (-10lb/po2)

Connect the gauges and pipes, then, with the compressor turned off, fill Duracool® 12a the low pressure side of the compressor. Adjust the tip of the probe valve to establish flow. (The flow stops if you turn the tip too much.) When a minimum load is reached, start the compressor and adjust the circuit on high pressure.

Add the necessary amount of Duracool® 12a

After checking the pressures and temperatures, remove the charging hose and place the label Duracool® 12a (included) on the refrigeration or air conditioning system. Make sure the labels are perfectly visible.

Remember that Duracool®12a is flammable and should only be tested with an electronic oil test, soap bubbles or fluorescent screening liquid. In the event of a leak, ventilate the room, keep the product away from open flames and repair the leak. After repair, continue to charge.

If the circuit has been overloaded or leaks and needs to be recharged, empty the entire circuit and start charging again from scratch.

If additional technical assistance is required, please call your local distributor Duracool® or DEEPCOOL

Your circuit will now operate at a much lower back-up pressure, its efficiency will increase considerably and the customer will notice better cooling. PUT THE TAGS ON YOUR CIRCUIT.

IMPORTANT NOTE: The equivalent weight of Duracool®12a compared to other refrigerants is specified in >. Duracool®12a must be loaded like a liquid.

DON'T OVERLOAD THE CIRCUIT! Exceeding 414 kpa (60lb/inch) on the low pressure side can damage the compressor. In some cases, clearing the light may overload the circuit. Overloading can cause loss of cooling efficiency
Additives
You don't have to use all the additives, each case is different. However, if you buy one or more different additives, respect the odre shown above.

Namely, each can of additive contains Duracool 12a, so adding one or more cans of additive cans can fill your gas circuit